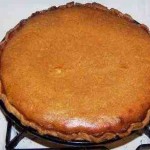 Thanksgiving is a great time to count our blessings.   I try to practice an "attitude of gratitude" year round, but Thanksgiving serves as a nice reminder to slow down, enjoy and focus on the important things.
Holidays at most homes focus a lot on food and that can be especially challenging for anyone with diabetes. If you are looking for low sugar, low carb recipes, the internet is a great source.  We found a great Pumpkin Pie recipe worthy of sharing this morning.  If you have any favorite recipes you would like to share, you are welcome to share them here as a comment.
SPICY PUMPKIN PIE
1 (9-inch) pastry shell
1 tsp ground cinnamon
1-1/2 cup pumpkin (canned)
1/2 tsp ground nutmeg
2 eggs; beaten
1/2 tsp ground ginger
1 cup low-fat milk
1/4 tsp Salt
3 tbsp liquid cal-free sweetener
1 pinch ground cloves
2 tbsp brown sugar, packed
Light vanilla ice cream
Directions
Prick pastry shell with a fork. Bake in 450F oven for 8 min.
Stir together pumpkin, egg, milk, sweetener, sugar and seasonings. Pour into partially baked pie shell.
Bake in 350F oven for 50 minutes or until center is almost set. Cool slightly and then refrigerate.
Cut into 8 wedges and serve each with 2 tbsp light vanilla ice cream.
Nutritional Information (Per Serving)
Calories:
173
Protein:
5 g
Fat:
9 g
Carbohydrates:
20 g
Exchanges:
1/2 Starch/Bread, 1-1/2 Fat, 1 Dairy, 1/2 Fruit
Related posts:
You can follow any responses to this entry through the RSS 2.0 You can leave a response, or trackback.