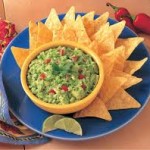 Have you been asked to prepare a popular side for a meeting or party? Here is a delicious, diabetic approved recipe for the ever-popular guacamole.
2 cups plain non-fat yogurt, drained
1 large plum tomato, seeded and finely minced
2 tablespoons minced shallots or red onion
2 large cloves garlic, minced
3 tablespoons fresh lemon juice
2 tablespoons fresh lime juice
1 teaspoon chili powder
dash of cayenne pepper
minced fresh cilantro for garnish
Directions
Cut avocados in half lengthwise; remove and discard the pits. (Or keep one if you're planning on using it to keep the guac from turning brown.)  Using a spoon worked in between the flesh and the skin, remove the avocado half from the skin.
Cut the avocado into 1-inch pieces.
Using a large mixing spoon, mix the avocado with the yogurt, mashing the avocado as you mix to a chunky consistency.
Stir in tomato, shallot, garlic, lemon juice, lime juice, chili powder, and cayenne pepper.
Cover and refrigerate until ready to serve.  You can serve with our baked pita chips or tortilla chips.
Nutrition Information
| | |
| --- | --- |
| | |
| Per 2-piece serving: | 95 calories (45% calories from fat), 3 g protein, 5 g total fat (0.8 g saturated fat), 11 g carbohydrates, 2 g dietary fiber, 0 cholesterol, 25 mg sodium |
| | |
Related posts:
You can follow any responses to this entry through the RSS 2.0 You can leave a response, or trackback.