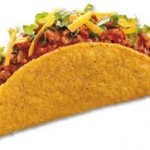 I am a HUGE fan of tacos and Mexican fare.  Try this lower-carb taco recipe and let me know what you think!
Servings: 6
Recipe Ingredients: 1 package taco shells – (12 shells/ 6″ dia)
1 package taco seasoning mix – (1 1/4 oz)
1 lb cooked chicken, shredded, or
torn into small pieces – (2 2/3 cups)
1 1/2 cups shredded reduced-fat Cheddar cheese, (6 oz)
3/4 cup nonfat sour cream
2 cups shredded lettuce
1 cup diced tomato
3/4 cup chopped onion Recipe Instructions: 1. Preheat the oven to 350 degrees. Put the taco shells on a cookie sheet.
2. In a skillet, combine the taco seasoning and 1 cup water. Bring to a boil; add the cooked chicken and simmer 10 to 15 minutes, until most of the liquid is absorbed into the chicken.
3. Bake the taco shells 5 to 7 minutes, until warm.
4. Place 1/4 cup of the chicken mixture in each taco shell. Top each with 2 tablespoons Cheddar cheese, 1 tablespoon sour cream, some shredded lettuce, diced tomato, and chopped onion. Serve immediately.
This recipe yields 6 servings. Serving size: 2 tacos.
Exchanges Per Serving: 4 Lean Meat, 2 Starch, 1/2 Fat.
Nutrition Facts: Calories 408; Calories from Fat 143; Total Fat 16g; Saturated Fat 4g; Cholesterol 82mg; Sodium 685mg; Carbohydrate 28g; Dietary Fiber 3g; Sugars 5g; Protein 35g.
Source: "American Diabetes Association at http://www.diabetes.org" S(Formatted for MC6): "09-18-2002 by Joe Comiskey – jcomiskey@krypto.net" Copyright: "© American Diabetes Association, 2001" Servings: 6
Related posts:
You can follow any responses to this entry through the RSS 2.0 You can leave a response, or trackback.