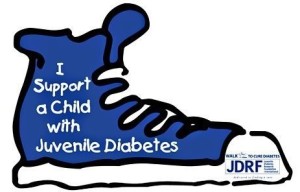 We, here at Test Strip Search, support JDRF with a portion of our profits each and every quarter.
Test Strip Search has been a long-time supporter of JDRF.  The Juvenile Diabetes Research Foundation searches continuously for a cure for our smallest diabetes patients. The goal of JDRF is "to progressively reduce the burden of the disease on people's lives until we can achieve a world without T1D."  They spend their money and effort on managing and curing Type 1 diabetes.
About 3 million kids suffer with diabetes.  Many of our clients, our children, or have children with diabetes and they are especially attuned to the challenges childhood diabetes poses.
Adults with diabetes can empathize with the burden this disease places on our youngsters.
For more information, please visit JDRF.
Related posts:
You can follow any responses to this entry through the RSS 2.0 You can leave a response, or trackback.