Quitting is tough but it's not impossible.
Read these tips on how to stop smoking. With the right help, you can stop this habit for good.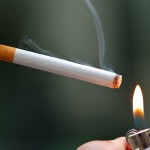 1. Make an honest list of the reasons why you want to quit smoking. Read your list when you feel like you can't do it.
2. Choose a date. Make sure you have enough time to prepare to quit smoking.
3. See a doctor. Ask your doctor what your options are in managing your withdrawal symptoms. You can also buy over-the-counter products such as nicotine gum' nicotine patches' and nicotine lozenges to help manage withdrawal symptoms.
4. Stop buying and throw all your cigarettes. Not having an emergency pack at home makes it easier to fight your cravings.
5. Clean your house. Smoke smells stick to the walls, curtains, furniture, carpet, and your clothes. Open your windows to let fresh air in. Wash all your clothes. Change your curtains. Consider repainting your walls.
5. Tell your friends and your family. Let them know that you need their support. Tell them that you don't want any cigarette near you.
Related posts:
You can follow any responses to this entry through the RSS 2.0 You can leave a response, or trackback.