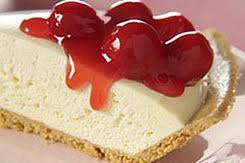 A diabetic-friendly recipe for Valentine's Day and beyond.
                 Cherry Cheesecake recipe
Do you want to enjoy some delicious cheesecake?
If you do, follow these steps and enjoy!
Ingredients
1 cup graham cracker crumbs
2 tablespoons margarine, melted
3 large eggs, separated
1 large egg white
¼ teaspoon cream of tartar
¾ cup 2 tablespoons spoon-for-spoon sugar substitute (such as Splenda)
2 tablespoons cornstarch
4 cups low-fat cream cheese
1 ½ teaspoons grated lemon zest
2 teaspoons pure vanilla extract
2 tablespoons sugar-free red raspberry preserves
1 cup fresh raspberries, rinsed and drained dry
Steps
Preheat oven to 325°F.
Combine the graham cracker crumbs and margarine. Pat evenly over the bottom and about 1/2 inch up the sides of a 9 1/2-inch spring foam pan. Bake in oven for 7 minutes.
Meanwhile, using an electric mixer on high speed beat the 4 egg whites and cream of tartar in a large bowl until foamy. Gradually add 6 tablespoons of the sugar substitute, 1 tablespoon at a time, beating until egg whites form stiff peaks.
In another large bowl, stir the remaining sugar substitute with the cornstarch, then add the egg yolks, cream cheese, lemon zest, and vanilla. Beat (using the unwashed beaters) until well blended.
Fold beaten egg whites into cheese mixture. Spoon the mixture into the partially-baked crust.
Bake in the oven until center barely jiggles when cheesecake is gently shaken, 45 to 50 minutes.
Remove from oven and cool completely.
Cool, stirring occasionally, until the preserves form thick syrup (that should take about 5 minutes).
Remove the outside of the spring form pan.
Mound fresh raspberries on the cheesecake and drizzle with preserve syrup. Chill.
When ready to serve, cut the cheesecake into wedges.
Now enjoy the delicious cherry cheesecake
Related posts:
You can follow any responses to this entry through the RSS 2.0 You can leave a response, or trackback.