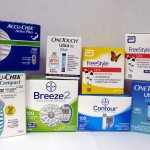 We buy diabetic test strips when folks have extra.
We take these extra diabetic test strips and make sure they get into t he hands of folks who cannot easily afford their diabetic supplies.  We have been doing this, buying test strips, for over 5 years now!  This is truly a win-win opportunity.  People who cannot use all their diabetic strips get extra money, the people who do not want to pay retail for their diabetic supplies get a discount, and we are able to provide jobs and income to the middleman (us!)
We are so good at buying diabetic test strips that we have an "A" rating with the Better Business Bureau and we have worked with over 6,000 clients that occasionally sell their extra test strips.
If you or anyone you know has access to diabetic test strips that are not needed or not being used, please send them our way.
Call us toll free 6 days a week at 855 578 7477 to sell your diabetic test strips.
Related posts:
You can follow any responses to this entry through the RSS 2.0 You can leave a response, or trackback.